Our History
Hank's Italian Restaurant was founded in 1967 at its original location in Torrance, CA. Jorge and Julie Curiel purchased the restaurant in 1991 and has made it a South Bay family favorite for nearly 50 years. Our pizza dough is made fresh daily. We make our sauce with rich spices and homemade tomato sauce. We serve traditional Italian cuisine like you would find back in the old country. We use fresh Mozzarella cheese, a variety of fresh vegetables and meats. Come try one of our Specialty Pizza's or create one of your own. Experience one of our traditional dishes from Italy.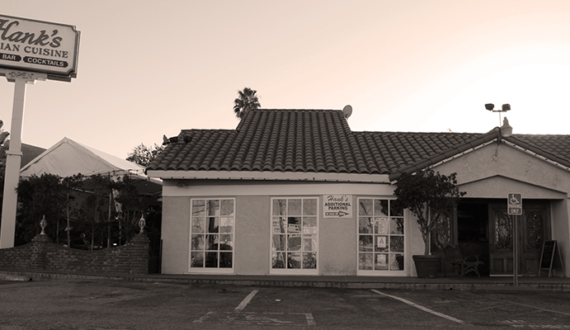 Feels like home
Hank's was decorated with a warm cozy feel in mind. We want you to feel like you're dining with family. We have plenty of room for all your guests. Whether you are having a Sunday dinner with family, or dinner with friends, we have a table for you. Come have that romantic dinner on our beautiful covered patio with a lovely fountain. Great for those intimate occasions.
Family Dinners
Dinner with Friends
Birthday Parties
Office Lunches
Take-Out
Awards and Ceremonies
We also cater parties and events. See our Catering page.
Family Owned & Operated
Hank's Italian Restaurant was established in 1967, a great year for America. We started as a local neighborhood pizza place in Torrance, CA., and quickly grew to one of the most known Italian restaurants in the South Bay. Although we are known for our fresh pizza's, we also serve up some amazing traditional dishes from Italy.
Hosted by Jorge & Julie Curiel & family.
From Pizza to Pasta
We have both amazing pizza's with toppings galore and our traditional pasta dishes such as Lasagna, Spaghetti and Meatballs and Ravioli. Come and check out our beautiful fruit and salad bar. Filled with seasonal fresh fruits and vegetables to suit your palate. From soups to dessert, you are sure to find something that you have been craving.
We have something for everyone.
Italian Meats
Mozzarella Cheese
Rigatoni, Mostaccioli, Spaghetti, Angel Hair and Shells
Vegetarian
Children's Meals
Reservations recommended. 
Our Kitchen
Our cuisine is traditional Southern Italian comfort food. Made with rich sauces, spices and lots of cheese. Just the way they make it back home in Italy, with love of the food. We provide an experience, not just a meal. We have a espresso/coffee bar, full spirit bar with specialty drinks, and plenty of domestic and imported Italian beer.
We welcome you to our humble home.
Celebrate with your family
Grab a drink at our bar
Try "The Julie Special"
Find out why we have been a family tradition for almost 50 years.
"I had the opportunity to try the Garlic Bread and found it quite addicting"
"Hank's Italian Restaurant offers wonderful traditional Italian food and an outstanding salad bar in a warm cozy setting."